Bratislava
An hour away from Vienna, this city is great for a day's walking tour
published: (updated: )
by
Harshvardhan J. Pandit
blog
travel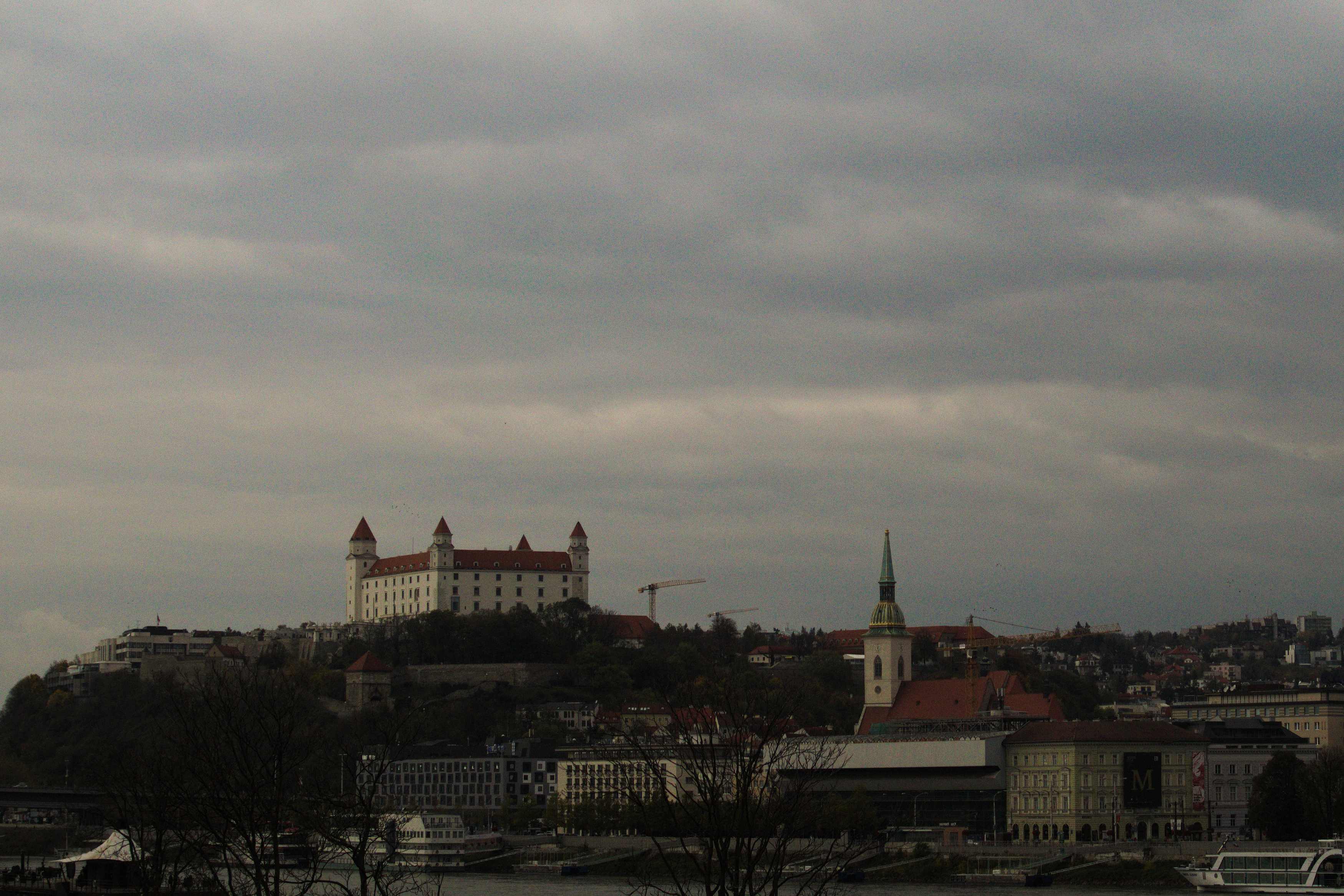 Situated about an hour from Vienna, Bratislava is the capital of Slovakia and is worth a visit. I went there on Friday morning and left early Sunday morning for Vienna Airport (which is also an hour away). I went with a colleague who was with me in Vienna for the conference and stay as well.
Read about my stay in Vienna here.
Friday 27th
Vienna to Bratislava
There are frequent buses from Vienna (city and airport) to Bratislava, and are very cheap. We got ours online for 5€, though we also saw advertisements for offers as cheap as 1€ on the buses. The bus we were in (Slovak lines) was very comfortable. We got complimentary water bottles (and there was even complimentary snacks which we didn't know about and didn't take). There was an entertainment system (like on long flights) that had movies, but I spent my time reading On Writing. The view outside was nice, though it had started to rain. There was a field of windmills just before the border. There is no indication that you've crossed the border. One comes to know of this from the change of language on signs.
Brickyard Hostel
When we reached Bratislava, it was raining. We took a taxi from the bus station to the hostel, and the driver could not understand English. He spoke Slovak, German (Deutsch), and Russian, none of which I could understand. I managed to convey that we needed to be near the Museum of Technology and he dropped us right there. My maps does not have location turned on, so we had to walk around in the rain trying to find our hostel. We were soaked a bit, but found out that we had walked past our hostel in the rain.
Once inside we checked in and got our room. The hostel was fairly low-key, but well maintained, and comfortable. For 10€/day, I think it was a good deal. With the rain still ongoing, we decided to rest a bit until the evening.
We met the other guy staying in the same room, Tom, who was from Toronto (Canada) and was traveling for a long time. After the rain stopped in the evening, we went out to get something to eat. Unfortunately, one of us (I won't say who) picked a pizza place, which turned out to be terrible. I ordered rizoto (risotto) and it was too salty. It was expensive as well considering we were in Bratislava.
Kraken
Once we had our food, we headed to a bar called Kraken which was just around the corner from our hostel. It was a new bar, opened recently in 2017. They had their normal lager, which was light and mild. They also had another one on tap, which was more stronger (about 14% I think) and was slightly sweet. I ordered that one and liked it. The bartender (who I think also owned the place) had a fresh (plastic covered) tattoo of a kraken on his neck. After the drink, we went back to the hostel and turned in for the day.
Saturday 28th
Cafe Stur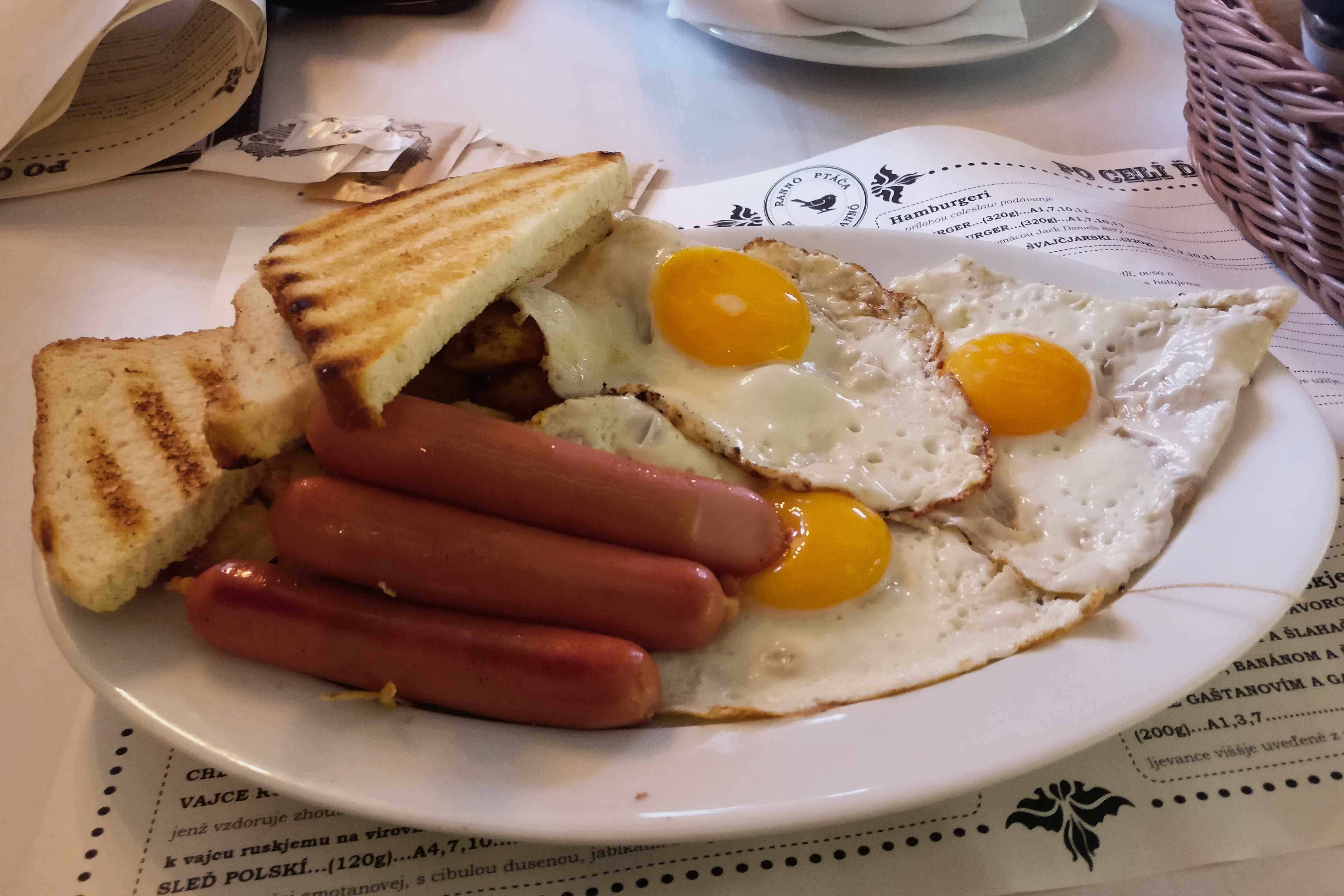 We started the day with breakfast at the cafe a few meters down the road from the hostel. It was on the list as one of the good cafes in Bratislava, and the hostel staff also recommended it highly. It was a bit expensive (but cheaper than Dublin and Vienna). I ordered sausage and eggs, and was expecting a small portion. But then I was served this nice full-meal sized portion and it delighted me. The food was very well prepared. The toast was excellent, there were potatoes that were tasty as a side. The sausage was light and fluffy. The eggs were well done but the yolk was still thick and runny. It was a very delicious and cheap breakfast.
Old Town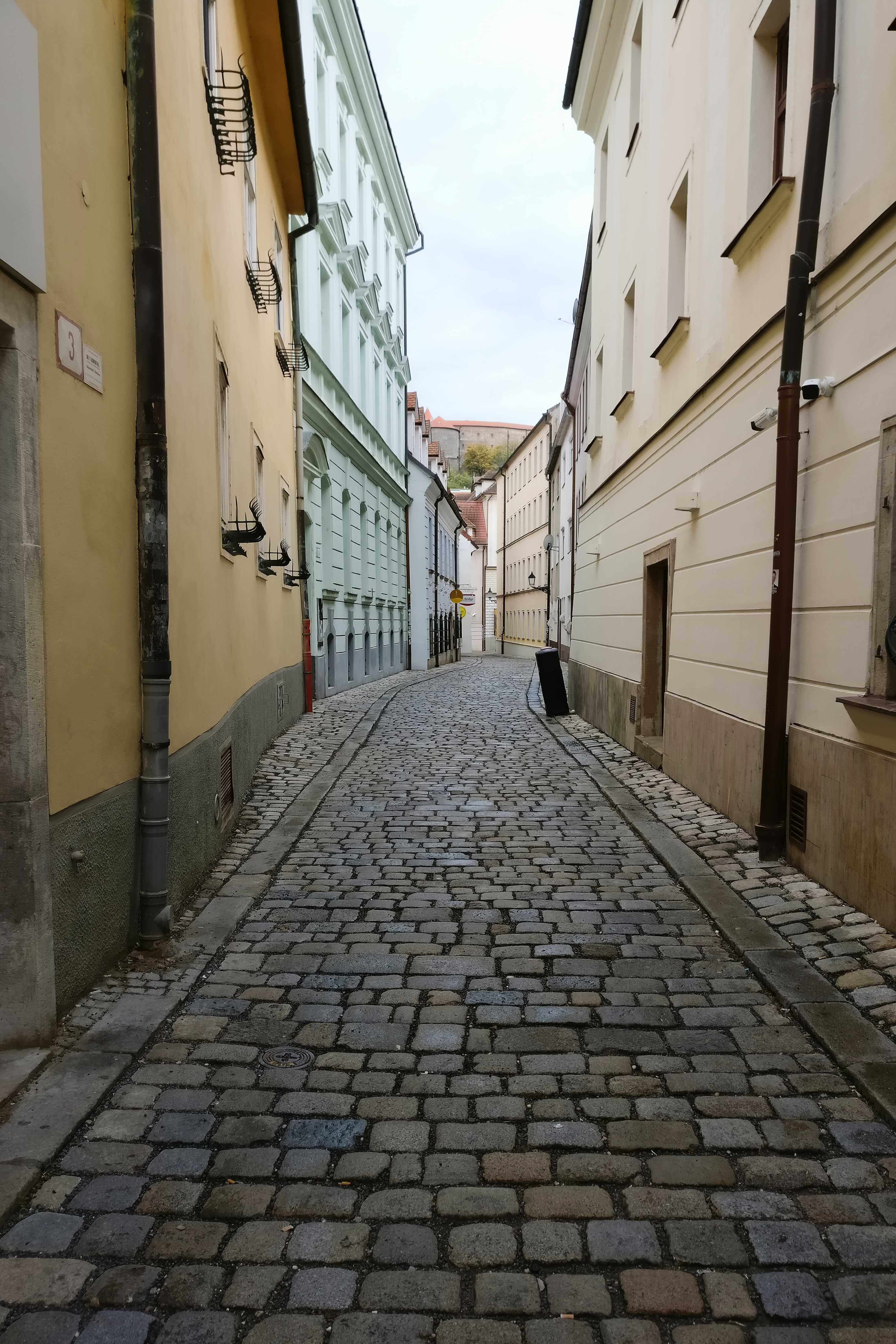 After the breakfast, we freshened up at the hostel and set out to walk the city. We walked to the city center, which is also called the Old Town. There are quite a few churches littered around the road with various styles of architecture. There are a few remnants of communism evident in few statues. The thing with Bratislava is there are statues everywhere around a corner, in parks, streets. One gets used to them pretty quickly.
The city itself does not feel much modern. It feels as if it has been pulled upwards by its neighbors and the remnants of a poorer and war-torn past can still be seen. There were electricity wires hanging overhead everywhere we went. It was reminiscent somewhat of India. The city felt easter European in its ambiance.
Bridge
The river Danube runs through the city (it also runs through Vienna) and there are several bridges over it which have become the symbol of Bratislava. We walked over two of them, one was for the tram line while the other was a automobile bridge. Once back into the city, my colleague headed back to the hostel, while I continued to explore the city on foot.
Cafe Next Apache
One of the recommendations I had when I left the hostel (Wombat - Naschmarkt) in Vienna was to go to Cafe Next Apache, no matter how weird the name sounds. The cafe is tucked away in one of the inner streets in Old Town and is not evident from the street unless you know you want to find it. Once in, it is however, a delight. The entire 'cafe' is essentially a bookstore or a libray. Everywhere you look, there are books. It's very picturesque. It looked beautiful to sit amongst all those books and to sip a cup of coffee. I was quite embarrassed because I wanted to go crazy pondering over all those books. The cafe is a must for bibliophiles.
Bratislava Kilometer Zero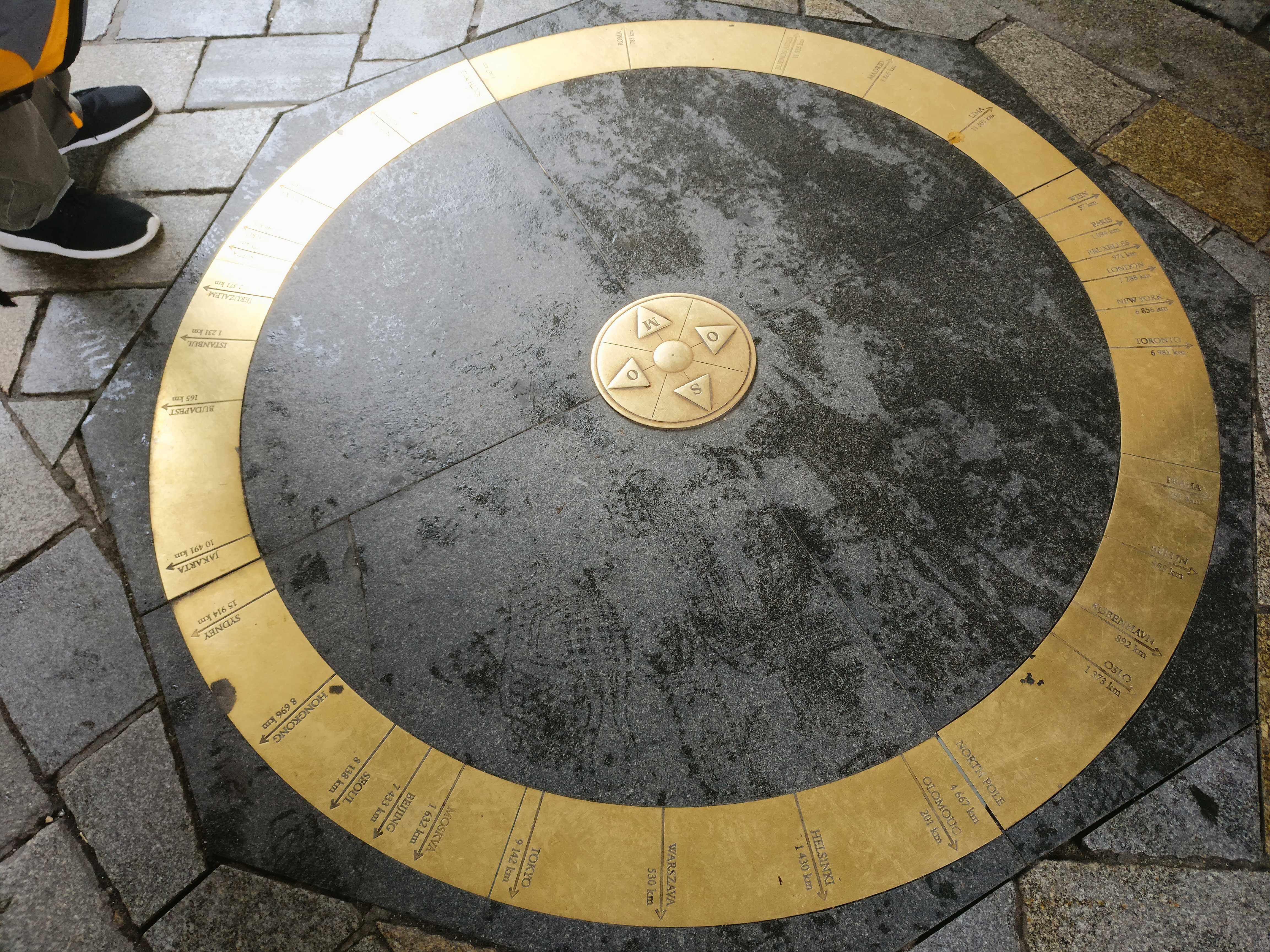 This is a copper circle embedded in the cobblestone streets that shows distances to various places around the globe. It is quite amusing to find it there. Apparently there are a few such 'kilometer zero' signs across the globe.
Kapitulska Street
To get away from the more modern buildings of Bratislava, and experience the older culture of the past few centuries, once can go to Kapitulska street. Here, the buildings have been left derelict and barren from their days in World War II.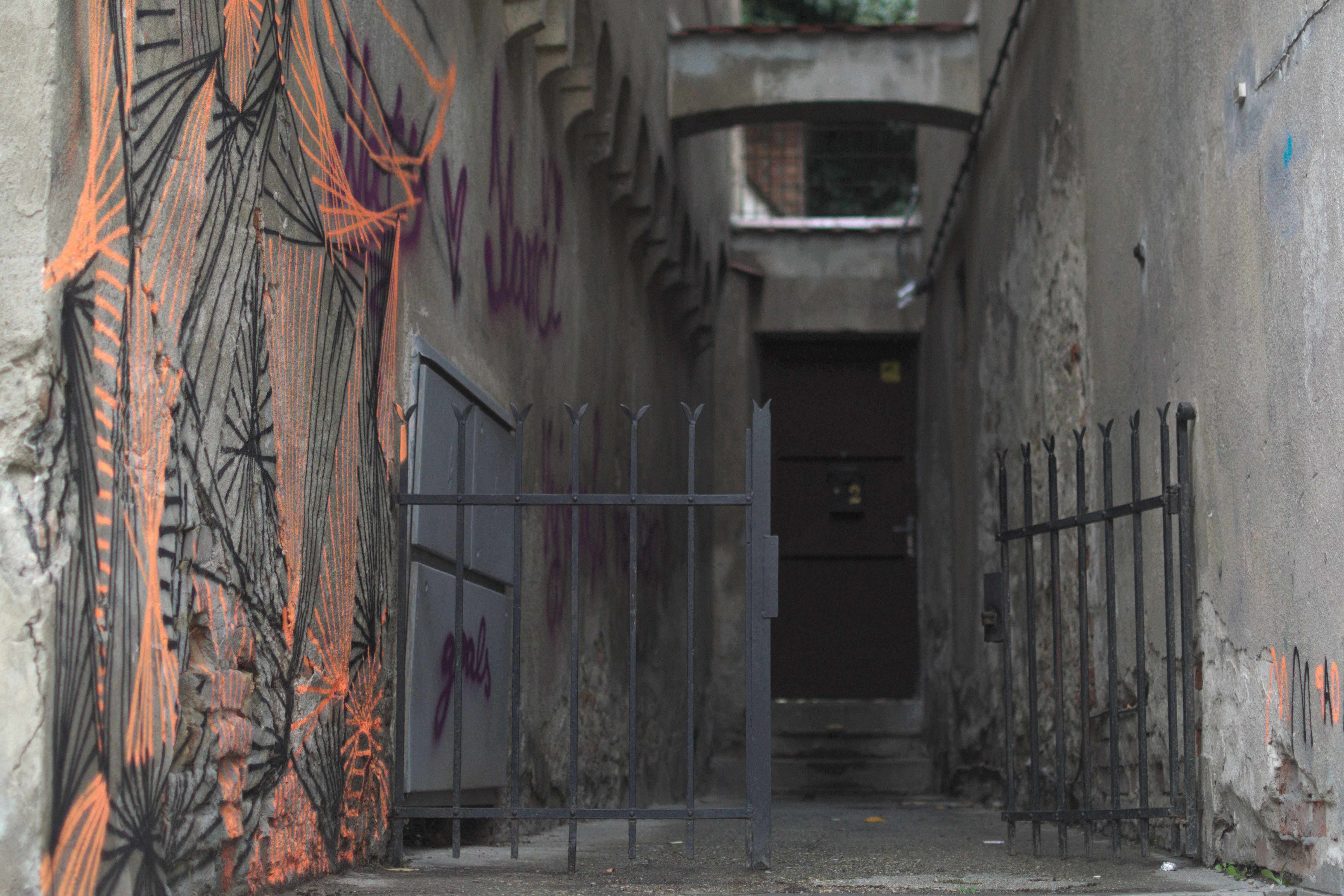 Hrad Castle
This is the castle sitting atop Bratislava. The city walls (of the castle) start quite below the castle itself, and one can walk through the (ruins) castle upwards. I was too tired to go all the way to the top, so I made my way to a few places and then turned back.
Koun Ice-cream
At the center of the old-bratislava is a park, more modern and littered with restaurants. At the corner of the street there is an ice-cream shop called Koun which is famous for its flavors. I went in there and had three big scoops of - rum'n'raisin, caramelized fig, and lavendar - for only 4€. The ice-cream was very tasty. The lavender flavor was the most bizarre ice-cream I've every had - possibly because I've never actually tasted lavender before. My memory of lavender is only its fragrance.
Dinner
After the tiring day I had, I walked back to the hostel and went back to Cafe Stur for dinner. I had a Hungarian scramble - which is toast and potatoes - same as before - with scrambled eggs and spicy sausages. Everything tasted well. The cafe was essentially an all-day breakfast place.
Sunday 29th
Bus to Vienna Airport
We took a cab from the hostel to the bus station (Most SNP). The hostel reception (quite helpfully) ordered us a cab, and we had to pay just 5€ for it. Once at the bus stop, we couldn't find any bus marked as going to Vienna airport. Sure, we looked for all the combinations of the two -
- (Vienna | Wien) x (Airport | Erdburg)
but still could not find anything. After a while, we met a few others who had booked the same bus online as well, and waited with them for the bus to arrive. As the time creeped closer to 07:40 (the departure time for the bus) we found ourselves getting anxious. Finally, the bus arrived and I saw some women being pointed out that she had bought a ticket for yesterday rather than today. I checked mine just to be sure I wasn't being an idiot myself . Sometimes, I can be...
VIE --> DUB
Once at the airport, we didn't know what terminal we were in. This was because it was not printed on the boarding pass. So we looked for the flight number, saw that we were in Terminal 1, and then walked over there. The way check-in and security is arranged at Vienna Airport is much different than what I've seen elsewhere. At other places, there is one common security for everyone at the terminal, and then people go in, through the shopping area to their respective gates. In Vienna, you walk in to the shopping area, go to the gate letter and wait for your flight to be assigned a gate number. Then you go to the security clearance for those selected gate numbers. There are estimated walking times on information boards, which is very helpful for people who are in the wrong place. I found the entire system (as with the rest of the country) to be very planned, executed, and efficient.